My story begins when I was about 5 years old. My mom and I were given an older dog because the lady was moving and could not take the dog with her. Skeeter was her name. I think, she was a Shih Tzu mix. She was my first dog. We had her for about a year, when she had puppies. I named them all after the Smurfs. I was so in love with Skeeter and her puppies, that I cried when I came home one day and they were all gone. I understand now, but back then I didn't. Not long after that I had my first seizure and was diagnosed with Epilepsy.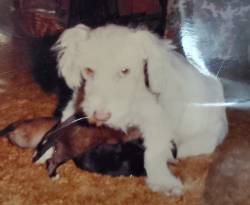 Four years later, at the age of 8, my sister was given a puppy from one of my cousins. It was a little white ball of fluff that fit in the palm of my hand. Keep in mind, I was very little back then. So, the dog was surely little. It was right after my Grandmother had passed away. My sister, Sandra brought the puppy to show my mom and I what she had. Sandra stayed a couple of days with us and during that time, I became attached to the dog. Even though Sandra was there, the puppy slept with me. I would not let it go. When it came time for Sandra to leave, my mom told her… "You can't take the dog. The dog makes Kim happy and I want her to keep it." Lucky me, I got to keep the dog. Yes, crying was involved. LOL!
I named her Wilma Jean, a Toy Poodle. We were two peas in a pod. Everywhere I went, she went. Except school, but she was always waiting for me when I came home. I taught her to sit, lay down, dance for a treat, roll over, give paw and come when called. She slept with me and stayed by my side all the time. When Wilma was about 8 months old, I had a seizure. I remember waking up in the ambulance hearing her yelping and barking before I passed out again. The next thing I remember is waking up on the couch with my hand on the floor and Wilma had her head in my hand. My mom told me that Wima stayed by my side the whole time I was out. The next time I had a seizure, she alerted my family members to what was happening. I don't remember having seizures or many days after. But what I do remember is Wilma Jean was always there before I had one and right there by my side when I would wake up. Wilma and I would go stay at my dad's house, so she knew the way. He lived across the highway from the neighborhood that my mom and I lived in. So one day just being a kid that didn't know any better, I wrote a note for my dad and tied it to Wilma's collar. We went outside and I told her go give this to Daddy. Well, guess what? Fifteen minutes later, here comes my dad with Wilma Jean in the front seat. Both with the biggest smiles on their faces. I found the note years later after my dad passed, he had kept it all these years.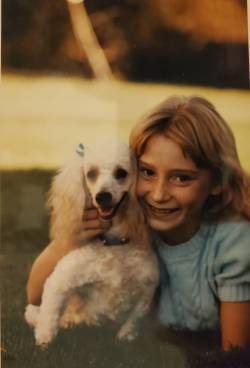 I had Wilma for 8 years. I stopped having seizures around the age of 13 or so and Wilma began to have seizures 2 years later. She was put on the same medication that I was taking. She watched me have seizures for years and I felt so helpless when I witnessed her having seizures. I would cry every time. But unfortunately, the seizures took her. Wilma was a great companion and seizure alert dog. She would come every time I called her until the day, I called her and she didn't come.
When I moved in with my dad, there was a cat hanging out at his house. As we were moving my stuff in, the cat came in and had kittens under his bed. Ha! Later that night, Daddy woke me up saying he keeps hearing kittens. So I looked under his bed and there they were, and the momma cat was at the door wanting in. Yes, you guessed it, I ended up with a kitten. She was a Calico cat, I named her Pasta. I would put her in my purse that I bought just for her and carried her everywhere. The people in Wal-Mart called me the Cat Lady. I was 18 years old. Ha! Pasta stayed with me through 8 moves and various other things you will soon read about. She was 18 years old when she passed away. She was very loyal and one of the best cats we had.
Fast forward 2 years later, my husband, Phillip, and I had a 4-month-old daughter Taylor. One night, we kept hearing a puppy. On this night, there was 6 inches of ice and snow on the ground. Phillip got up and went outside to look for the puppy we kept hearing, but couldn't find. The next day, we heard it again and Phillip was able to find the puppy in the snow. When he brought it in, I immediately fell in love with the puppy. How could you not? It was a black lab! When I put Taylor down on the floor to sit and play with her toys, Phillip put the dog on the floor. The dog ran circles around Taylor and she just started laughing so hard, she fell over. The dog became known as Noodles. Yes, we were keeping our Italian food names. We also had a Lasagna, Oregano and Basil. All cats who we dearly loved and had for a long time.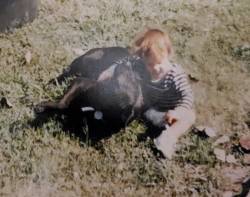 When Taylor was about 2, she had a seizure. Noodles wouldn't leave her side. As with what happened with me and Wilma, happened with Taylor and Noodles. Noodles became a seizure alert dog. I did, however, train her to sit, stay, lay down, give paw, load, unload and come when called. She was a great dog. Once Taylor got older, she started venturing out into the neighborhood. Noodles would follow her everywhere she went. All I had to do was call Noodles and she would come to the end of the driveway, look at me, and go back to the door of the house where Taylor was. Any time that Taylor was going to have a seizure, Noodles would not let her out of her sight, act differently and I knew. Noodles and Taylor grew up together just as Wilma and I had. They were inseparable. When Taylor stopped having seizures, Noodles became ill with Pancreatitis. We had Noodles for 12 years.
We had a second daughter, Sky and yes, she also had a dog of her own. Copper, the Fiest. My sister gave her to me when Sky was 3 years old. Of course, Copper started out sleeping with Phillip and I, snuggling in between us to keep warm. After about 6 months, she started taking up with Sky. They became 2 peas in a pod as well. Everywhere Sky went, Copper would follow. Fortunately, Sky did not have seizures. But Copper was her best friend. Copper would let her dress her up and have teatime and play school with her. And yes, all I had to do was call Copper and she would come to the end of the driveway, wherever Sky was, look at me and then go back to the door of the house where she was. I also trained Copper basically the same commands as I did the other dogs. Back then I didn't watch TV, we didn't have internet and I just wanted her to do something. So, I taught her what to do and what I expected. Copper was another great dog. More than that, they were all our family in fur and four paws. Copper ended up with congestive heart failure and we had to say goodbye to her in 2016. She was 8 years old. By this time, we learned a about how vetting was important - shots, heart worm prevention and spaying.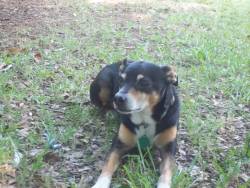 During the time that we had Noodles, Copper, Pasta and the other cats, we ended up with a rabbit. His name was Woofus, because that is how the girls pronounced his name, it was cute. Woofus ate cat food and used a litter box like the cats. It stayed inside the house and the dogs nor the cats bothered it but snuggled with it. We had Woofus for 4 years. We were heartbroken when it passed away.
For Easter one year, my sister decided to give Taylor and Sky ducks as a gift. Yes, that's right ducks! We had three little ducks in the house with the cats and the dogs and everyone got along. What's funny about the ducks, is that they were supposed to be for the kids but I ended up being momma duck. They had to be tucked in at night, and at 6 a.m, every morning, they would come quacking and pecking at my bedroom door. I would get up, open the door, they would all get in a line and follow me to the pantry door where their food was kept. Yes, they would get excited. Quacking and pecking at the door. Then follow me to their food bowl for breakfast. During the day, they followed me everywhere. Once it warmed up outside, I put a little swimming pool on the deck and let them swim in it, they loved it. Once summer came, I thought it was time to let them go. We loaded them up and took them to my mom's house. She lived on the lake and they would be happy with all the water and other ducks and geese.
After the ducks, came a squirrel. A friend of mine found a squirrel nest in her dryer vent. She managed to get all the baby squirrels to go up the tree except for one. He curled up in a ball. She called me and asked what to do. I went over to her house and when I looked at the squirrel, I picked it up and put it in my shirt pocket. He got comfy and stuck his head out. I brought it home and so happens that my dad and sister are over visiting. We had another rabbit that my dad and I had built a cage for. I put the squirrel in the cage inside the house. I looked up information about squirrels, what to feed them and what not. I wrapped him in a warm washcloth and bottle fed him and put him in the cage. I walked out of the room to go to the kitchen and the squirrel starts squeaking, . Ha! My sister called me to come back to the living room and he stopped. I went back around the corner and he did it again. So, from then on, his name was Squeaky! Yes, we still had Noodles, Copper, Pasta, Basil and a few other cats. All whom all lived in the same house getting along. Since he would squeak when I left the room, I put him on my shoulder. He would go under my hair and peak out on one side or the other. Every morning when I would get up, I would go to his cage open the door and put my hand out. Squeaky would run up my arm and under my hair, he would go. When it started getting warmer, I would take him outside. I would put my hand against the tree and he would run up the tree, play, eat acorns, and throw them at me. It was his way of playing. If I even thought of leaving his sight, he would start squeaking at me. So when it was time to come in and get ready for the day, I would put my hand on the tree and call him. Squeaky would come running down the tree and under my hair he would go. Once inside, I would let him run loose in the house and none of the other animals bothered him. But being a boy and all, he became a little protective of me. One morning my husband was leaving for work, Squeaky bit my husband while he was telling me bye. I knew I couldn't let him go. He wasn't wild anymore. We found someone who had recently lost a flying squirrel to old age and gave him to them. They gave him a truck to play with and he lived a good life without biting anyone.
A couple of years after losing Noodles, we came across Mattie, the Miniature Schnauzer. In the Wal-Mart parking was a man selling puppies. Mattie was the only white one and was the runt of the liter. It was love at first sight. Mattie reminded me of Wilma. Because he was white, he was less than the other ones. I didn't care, I just wanted the dog. So, I took the clearance puppy. Mattie is now over 10 years old, a little grumpy, but a great snuggle buddy. He slept with us for 8 years and then decided he wanted to take up with Sky. He sleeps in her room now and she spoils him rotten. I also trained him as I did with all my other dogs, but this time, I leashed trained him.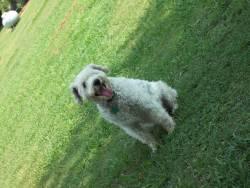 June of 2019, Father's Day weekend, our girls decided to catch some puppies that were behind RayCo. Out of a liter of 8, we ended up with 4 and five weeks later managed to catch another one. Pretzel was in this bunch and as soon as I laid eyes on him, it was love at first sight. I knew we didn't need another dog, we were happy with Mattie. But there was just something about Pretzel that just drew me in. I fought it for two days of not wanting to keep him and people were asking if they could have him. Finally, I said he is mine and I shall call him Pretzel. After a month, Amber Austin with Lead Me Home Rescue stepped in. She found wonderful loving homes for the other ones. They were house/crate trained, leash trained and had basic obedience training, same as my other dogs. Yes crying was involved, but to see the pictures of the adopters when they took the puppies my daughters' rescued and take them into their arms with tears in their eyes. Puppies they fell in love with from a picture and a few videos was very heartwarming. It made me want to do more!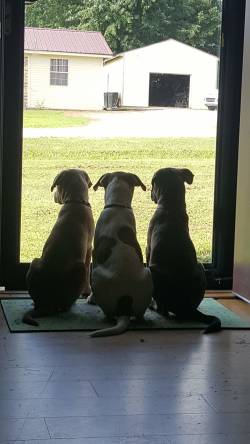 Since then, I have volunteered for Lead Me Home and fostered two hounds, Hazel and Whitt that were very unruly. I managed to house and crate train, leash train and give them basic obedience training in 4 weeks. Hazel was adopted first, then two weeks later Whitt followed. I also had the privilege to foster and train 2 Great Pyrenees puppies, Luna and Boone. One of which I had for three weeks and the other only a week.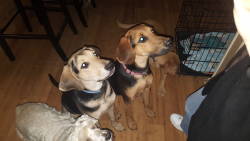 All through this, I researched the ever-growing therapy dog. I found a website for Pet Partners(PP). As I was searching my community and looking for other PP Therapy teams, I ran across Scott R. Wilson in Oxford, MS. Mr. Scott has become a wonderful mentor for me and taught me a lot. I did a registration for Pretzel and myself. We have been working hard at training. So far, he has the AKC STAR Puppy title and the AKC Canine Good Citizen title. Pretzel and I are currently working on the Urban CGC Title and after his 1st birthday, we are going for the AKC Therapy Canine and Pet Partners Evaluation.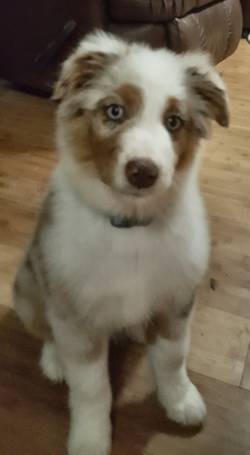 Through my research, I also came across Mississippi Therapy Canines. I applied to be a volunteered as a volunteer puppy raiser. I received Chicken Noodle in November of 2019. Within 3 weeks of having her, she was trained to sit, stay, lay down, come when called, and crate and leash trained. It took a little longer to house train her though. She doesn't like the rain. She was on the same level as Pretzel. They also know the leave it, halt, heel and wait commands. These two dogs, Pretzel and Chicken Noodle, will be Therapy Canines.

To say I love animals would be an understatement. I haven't met a dog, cat or any animal that didn't like me or shy away from me. I love working with animals, seeing them make people smile and brighten their day. The more dogs I train the better I feel. I am helping a dog find their forever family. All the animals we've had over the years will never be forgotten; they hold a place in our hearts forever. Everything happens for a reason, and I am happy this has happened.

Thank you for reading this, I know it was long. But now you know the passion I have for animals has always been there and will forever be there.

Sincerely, Kimberly Jackson FTPTA